Permanent Makeup near Southend
Layla Hinchen's Permanent makeup clinic in Hornchurch is just a 35-minute drive from Southend via the A127.
PMU Artist near Southend-on-Sea
Permanent makeup, often called micropigmentation or semi-permanent makeup, is an imitation of flawlessly placed cosmetics that can be as subtle or dramatic as you like. Layla Hinchen's Permanent makeup clinic in Hornchurch is just a 35-minute drive from Southend via the A127.
Have you ever wondered how PMU works? During a typical PMU treatment, we essentially tattoo with hypo-allergenic, speciality pigments deep into the skin's dermal layer, where they stay put for the duration of your day and night. The effects of permanent makeup wear off gradually, and a colour boost is required 12 to 24 months after the original application to prolong the perfect makeup appearance. Read our FAQs for more information about the longevity of Permanent Makeup.
Permanent Eye Makeup Southend-on-Sea
Layla Hinchen already has an established client base in Southend, with clients frequently travelling the short distance to Hornchurch for PMU treatments.
Permanent eyebrows are a great way to emphasise your eyes since the procedure provides a smudge-proof finish that mimics the look of freshly shaped brows. If you have few or short eyelashes, struggle to draw precise lines with eyeliner, or feel like your eyes have dulled with age, you'll appreciate the benefits of permanent makeup very much. It's also great if you have allergies to regular eye makeup.
Permanent Lip Makeup in Southend
As we age, our lips naturally lose their shape. The natural edge gets smaller, the fullness starts decreasing, the cupid's bow gets straighter, and the corners start to fall. With Permanent Lip Makeup, this doesn't have to happen. You can maintain a full lip and enjoy the confidence that goes with it.
We don't just offer permanent makeup in Southend, we also offer a range of aesthetics treatments too, plus guidance to make sure that you understand how our therapies work and the results that you can expect. We're ready to answer your questions, so don't hesitate to get in touch if you need more information or want to book a consultation with one of our PMU experts.
Permanent Makeup Treatments near Southend
Permanent Eyebrow Makeup near Southend
Permanent Lip Makeup near Southend

Permanent Eyeliner Makeup near Southend

Why not book a free Permanent Makeup consultation where we can discuss what you're looking for?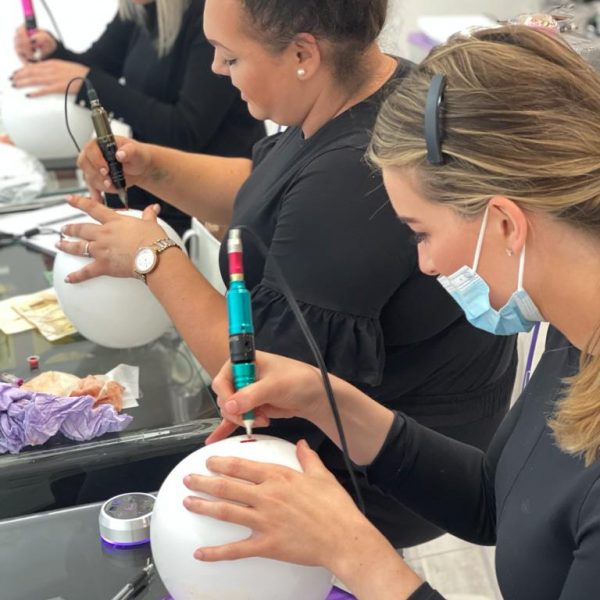 Permanent Makeup Training Southend
As part of our extensive offerings, we also offer a range of permanent makeup training courses to people living in Southend at our Hornchurch-based clinic. No matter what stage you might be in your journey to become a permanent makeup practitioner, we can help you.
There is no better time than now to enrol in a permanent makeup training course and change the path of your professional life. Learning permanent makeup techniques like microblading can boost business for anyone in the beauty industry, whether they work for a salon or independently. Take a look at our training pages to find out more.
Frequently Asked Questions
Every client is different, but all the procedures are done with your comfort in mind. We usually use a topical anaesthetic ointment before treatment to make it less painful. This means that most people won't feel anything, but a few may feel a slight prickly feeling. But any minor pain a client might feel will be more than made up for by the amazing results that will be obtained.
Most people can get some kind of permanent makeup done, as long as they are over the age of 18. We will work with you to figure out which treatments will help you look and feel your best. We do this through a one-on-one consultation where we talk about your wants, expectations, and any parts you want to change or make more balanced.
Each new PMU procedure will likely take about two hours.