Permanent Makeup near Brentwood
Layla Hinchen's Permanent makeup clinic in Hornchurch is just a 15-minute to Brentwood via Warley.
PMU Artist near Brentwood
From our clinic in Hornchurch (just 15 minutes from Brentwood via Warley) we are dedicated to boosting our clients' natural facial features in order to make them feel more confident and beautiful. We do this by expertly applying permanent makeup to our much-loved Brentwood client base.  
Despite the word "permanent" being included in the name, permanent makeup is actually a cosmetic method that involves the use of a semi-permanent tattoo to create designs meant to mimic high-quality makeup. Pigments are implanted into the skin very superficially with a single-pronged needle or blade.
Permanent Eye Makeup Brentwood, Essex
There are so many reasons that PMU is gaining popularity in Brentwood and why finding a professional, highly rated PMU Artist, like Layla Hinchen is crucial.
To begin with, permanent makeup is maintenance-free and unlike regular makeup, stays on for a long time. If you make the time for touch-ups, such as an annual colour boost, you might never need to buy pencils and liners again. It gives you the confidence that you can wake up every day looking on-point with little or no effort.
Our client base in Brentwood says that permanent makeup procedures such as permanent eyebrows are the best way to save time and money because it is the most convenient. People who are always on the go will say that permanent makeup is a great choice.
Permanent makeup, or micropigmentation, is especially helpful for people who can't wear regular makeup because of allergies or sensitive skin. Most of the time, micropigmentation pigment doesn't have the same allergens as regular makeup, and of course, we will always patch test if you are new to permanent makeup.
Permanent Makeup Treatments near Brentwood
Permanent Eyebrow Makeup near Brentwood
Permanent Lip Makeup near Brentwood
Permanent Eyeliner Makeup near Brentwood
Why not book a free Permanent Makeup consultation where we can discuss what you're looking for?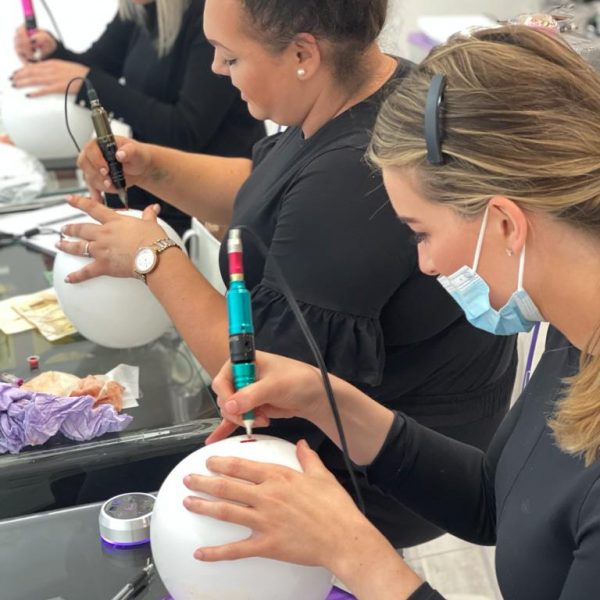 Permanent Makeup Training Brentwood
The makeup industry is growing all the time. Permanent makeup training near Brentwood is a great way to boost your career and service offering as an existing makeup artist, or a fantastic venture if you're new to the world of health and beauty.
On top of our many PMU services, we also offer permanent makeup training in our Hornchurch clinic. Look at our website for more details; we offer a range of qualifications and certifications to suit your needs. Training from us means you'll be well supported by Layla Hinchen – one of the UK's most trusted and highly rates PMU Artists. 
Frequently Asked Questions
It's called semi-permanent because it uses natural colours that will fade over time, but the pigment itself will stay in your skin forever, hence the term permanent being used. 
At our Hornchurch clinic, the most important thing to us is that you are comfortable during the procedure, even though it can be a little uncomfortable at times. A local anaesthetic is put on the area being treated before and during the procedure. Most of our Brentwood based clients say getting an eyebrow tattoo feels like getting threaded or has a slight scratchy feeling that goes away after they get anaesthesia.
Take special care to keep the treated region clean and dry; for at least seven days following the procedure, you shouldn't go swimming, sweat, or expose the area to the sun for extended periods of time, and you should resist the urge to scratch or peel at the tattoo either. Full aftercare treatment and advice will be given to you on the day of the treatment.