Permanent Makeup in Hornchurch
Layla's Hornchurch-based PMU clinic is situated in the Emerson Park area.
Looking for a PMU Artist In Hornchurch?
Have you ever wished your makeup would stay on all night so you could just roll out of bed and be ready to go? With permanent makeup, you could make that wish come true – and it all starts with Layla Hinchen's permanent makeup clinic in Hornchurch.
Permanent makeup is a term for cosmetic tattoos that help you get your favourite makeup looks in a semi-permanent way. Chances are, you've already heard about Microblading, an eyebrow-tattooing technique that has become popular over the past few years. But eyebrows are only the start. You can also get tattooed lip makeup, that makes your lips look fresh and alive and semi-permanent eyeliner makeup that looks like freshly applied, sharp liner. Just get in touch with our Hornchurch Studio to find out more.
How to Find our Hornchurch PMU Clinic
Layla's Hornchurch-based PMU clinic is situated in the Emerson Park area, just outside of Hornchurch Town Centre via North Street.
Layla's studio is close to five train stations located within the Hornchurch area – Emerson Park, Hornchurch, Upminster Bridge and Gidea Park.
Our clients come to us from all across Essex and beyond for many reasons. Permanent Makeup is unique to you, which is why it's a good idea to get in touch with our expert team to discuss your requirements in more detail.
Not only this, but we also offer a comprehensive range of aesthetics treatments in Hornchurch too.
Why opt for Permanent Makeup?
Permanent makeup will cut down on the amount of time it takes to get ready in the morning. You don't have to use eyeliner, lip liner, or lipstick, or spend hours and hours on your eyebrows to make them look even.
Most of the time, you won't need to touch up for permanent eyebrows, permanent eyeliner, or lipstick for at least 12 to 24 months.
At our PMU Clinic in Hornchurch, it's amazing how frequently we hear how much a client's confidence can go up when their lips are perfectly defined, and their eyebrows look beautifully natural.
Permanent Makeup Treatments in Hornchurch
Permanent Eyebrow Makeup in Hornchurch
Permanent Lip Makeup in Hornchurch
Permanent Eyeliner Makeup in Hornchurch
Why not book a free Permanent Makeup consultation where we can discuss what you're looking for?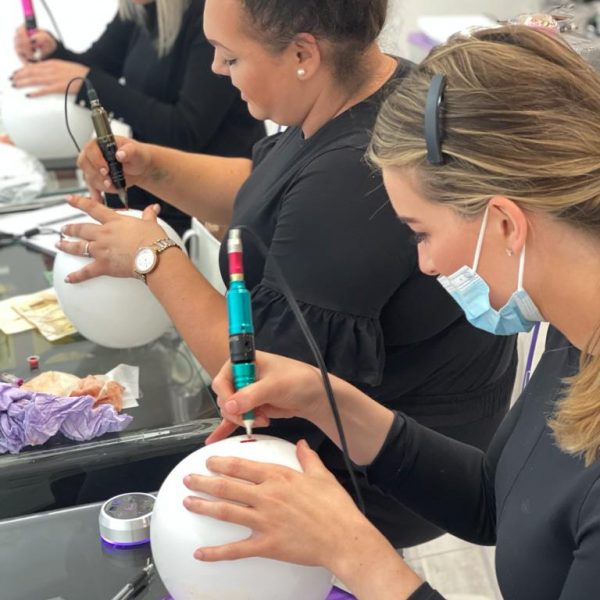 Permanent Makeup Training Hornchurch
As well as providing permanent makeup services, we can also provide permanent makeup training from our training academy in Hornchurch.
Permanent makeup is an exciting and lucrative industry. Those who are interested in learning the fundamentals of permanent makeup are more than welcome to enrol in our introductory classes. We also provide the VTCT Level 4 certification in micropigmentation, for those who are looking to further their training. To learn more about our permanent makeup classes, please visit our informative webpage.
Frequently Asked Questions
Microblading is a hugely popular option when it comes to permanent makeup, but many people want to know: "Does it hurts?" The answer is that even though the procedure might take up to three hours, most patients report experiencing just a little pressure or soreness and less pain than a standard tattoo, thanks to the numbing ointment. This, of course, is subject to your own pain threshold. It's reasonable to anticipate feeling some pain or discomfort.
This is different for each person because their skin type, diet, genes, and environment – all play a role in how long the pigments last. For example, using a sun bed or being out in the sun can affect how long the pigment stays, but this can be avoided with the right protection. Most of the time, we tell our clients to come back every 12 to 24 months for a "colour boost" to keep their permanent makeup looking fresh.