Permanent Makeup in London
Layla Hinchen's Hornchurch-based clinic resides within the London Borough of Havering
London's Top Rated PMU Artist - Layla Hinchen
With PMU treaements growing so popular in recently years, there's no wonder why there are so many Permanent Makeup Artists operating within the London Boroughs. Find out how Layla Hinchen can help you achieve your PMU Goals…
Beautiful crimson lips, neatly arched brows, and smudged but effective eyeliner. Permanent makeup guarantees that your makeup will remain in place during your busy day, your workout, your night out on the town, and even when you wake up. If you're looking in into Permanent makeup in London, then Layla Hinchen's Hornchurch-based clinic in the London Borough of Havering is an excellent choice.
Semi-Permanent Makeup in London
Micropigmentation and semi-permanent makeup are both terms used to describe the cosmetic enhancement process known as permanent makeup. All of these procedures are technically cosmetic tattooing, however, they differ greatly from conventional tattooing in significant ways and are not to be confused with artwork tattoos which you see every day. Traditional tattooing involves going considerably deeper and using different hues; this makes tattoo ink inappropriate for the delicate skin on the face. 
Have you ever wondered how PMU is applied? A specialist PMU machine is used to implant hypoallergenic, pharmaceutical-grade pigments beneath the skin's surface. To restore a full natural brow, artists draw thin lines that mimic hair and then micro-weave them into the client's own hairs. Artists can even design an entire brow in a single sitting by combining the results of many hair strokes.
Permanent makeup pigments, which can be either mineral or organic, are meant to fade over time and a touch-up procedure known as a "colour boost" can be performed to restore the original intensity of colour as well as the contouring and highlighting effects.
Permanent Makeup Treatments in London
Permanent Eyebrow Makeup in London
Permanent Lip Makeup in London
Permanent Eyeliner Makeup in London

Why not book a free Permanent Makeup consultation where we can discuss what you're looking for?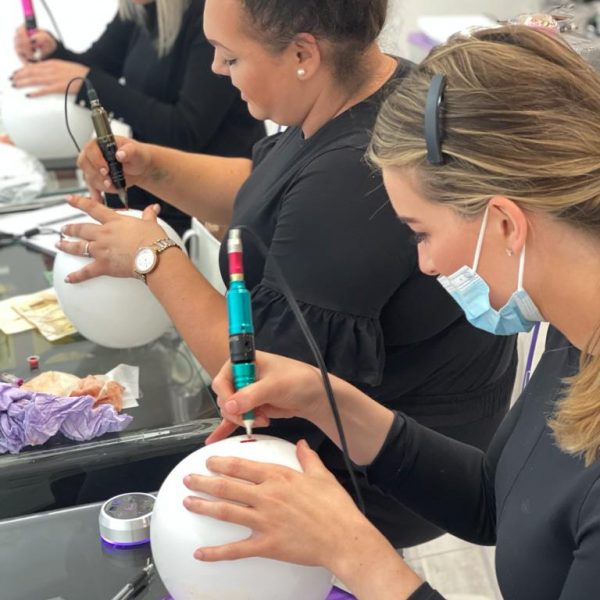 Permanent Makeup Training London
As a being known as one of London's top permanent makeup artists, Layla Hinchen also offers permanent makeup training to students in London. Layla believes that one of the best parts of her job is seeing how it can change people's confidence, and now you can offer the same treatments too.
Permanent makeup training in London is a great avenue for those wanting to get into the beauty industry and we can provide excellent training at our Hornchurch clinic. By the time you're finished, you'll know just how to carry out microblading and much more, and you'll have the right certification to prove it and move forward in your career. See our website for more details. 
Frequently Asked Questions